I recently completed the summer Permaculture Design Certification course, offered by Sowing Solutions at Sirius Eco Community in Shutesbury, MA. It was an intensive and practical program that was well balanced between technical and academic design considerations, and hands-on installation projects.
For me, the goal of this training was to learn tools to plan farms and gardens that are not only sustainable, but truly regenerative. On these farms, each successive year of production will result in soil that is more fertile than the previous year. In time, inputs will be greatly reduced or eliminated. This goal is not only necessary, but thanks to this design methodology, it is possible.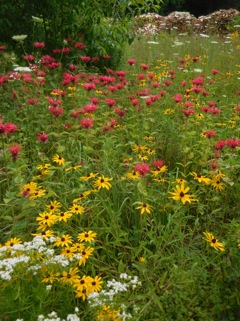 To learn this method, in addition to lectures and readings, we were given a design project; introduced to a client and their site. We were guided through the land usage design process; from goals articulation, through sector analysis and site assessment, to bubble diagraming alternatives to drafting the final design schematics. At each step, we learned to consider the guiding aspects of permaculture design: 1) Stack functions, 2) Create functional interconnections, 3) Optimize relative locations, and 4) Create redundancy. Essentially, we were taught to create self-perpetuating systems.
We learned techniques to Catch and store energy, Optimize edges, Leverage changes, Create feedback cycles, Use renewable resources, Observe and interact, and Design from patterns to details. It was a very practical course that was supported by a well developed curriculum, relevant field trips and personal coaching and mentoring.
Thank you to the incredible teaching team of Sowing Solutions – Kay Cafasso, Keith Zaltzberg, and Llani Davidson. I am grateful to you for opening my eyes to these systems of practical solutions. I highly recommend your course!